Behind the scenes of project Helium
I'm note realy sure if I am happy, but…
Hey Adi have fun with it and ride it hard.
Rene & Patrick
… and is now completly street legal and for –S*A*L*E– !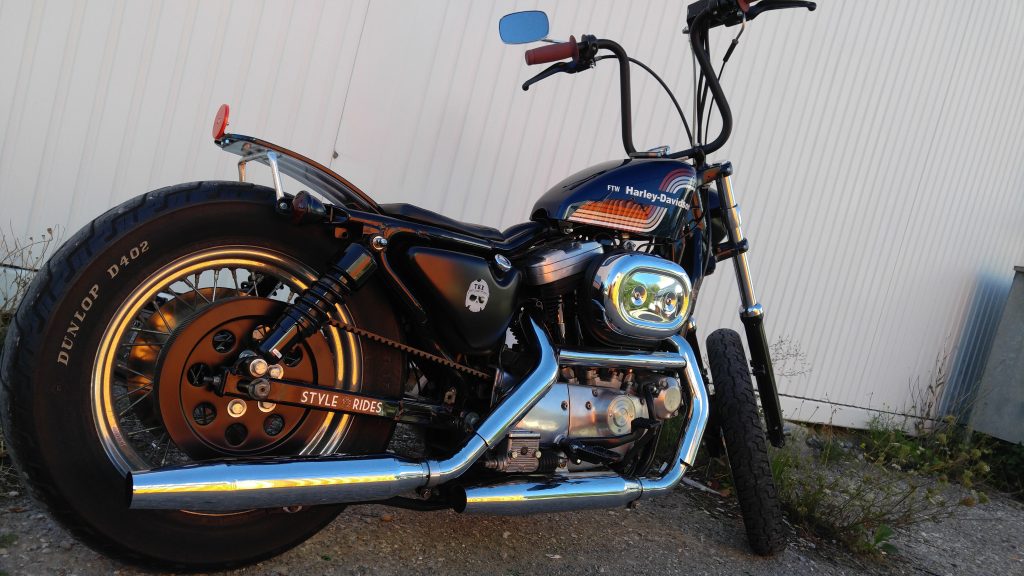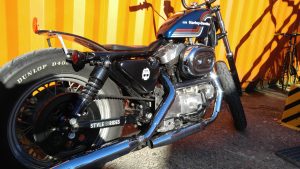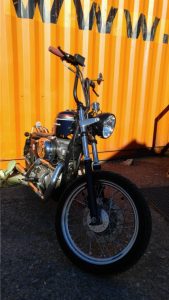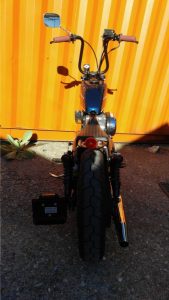 Ein richtiges urban Bike: Noch mit Vergaser und vier Gängen!
Preis:...................... CHF 8'500.-
KM:......................... 38'000
1. Inverkehrssetzung:......  01.06.1990
Ab MFK:..................... 06.12.2012
Beschreibung:
Kompletter Umbau zum "Cafe Racer" (ohne den Originalrahmen abzuändern)!
Heck und Sattel wurden speziell für dieses Bike angefertigt. Die Fussrasten wurden nach hinten versetzt und durch stylishe "Mushmen Footpegs" ersetzt. Der neue Tank wurde mit einer "old School" Lackierung versehen. Eine kleine "Bates-Style" Vorderlampe wurde mit einem Lampenhalter von "Crime Scene Choppers" verbaut. Der seitliche Nummernrahmenhalter sowie ein LED-Rücklicht dürfen auch nicht fehlen. Aktuell sind  Supertrapp Töpfe daran, taped mit Exhaust Wrap (Die originalen werden aber mitgeliefert). Dann wären da noch die "spezielle" Zündschlosshalterung und der neue Tacho mit den LED-Controlls zu erwähnen.
Für noch detailliertere Informationen zum Umbau, schaut bitte hier nach!
Das Bike kann jederzeit probegefahren werden. Auf Wunsch werden auch gerne weitere Photos und Auskünfte zur Verfügung gestellt. Kontaktinformationen findest du hier.
Customizing summary:
complete carburetor overhaul
new ignition module
enlarged gas tank with killer painting by "Chemical Candy" U.S.
custom built "cafe racer" back
custom built saddle and backrest
forward controls changed to mid controls
mushmen foot rests
bullet-style gear shifter
bates-style head lamp
new head lamp mount by "Crime Scene Choppers"
old school speedometer with LED controls
reduced handlebar elements (custom hi-beam and horn switch, cable inside bar)
single-cabel throttle assembly
black old school rubber grips
cafe-style LED backlight
black fork bellows
custom ignition key housing
custom starter button
black powder coated battery case
black powder coated license plate mounting
black painted oil tank
new voltage regulator
new back tyre
banjo rear brake switch
front fender removed
complete new wiring
custom built Joke mounting bracket
The Story began with a search in the internet for a used Sportster. We were trying to find an XL 1200, they are rare. Then one day in September, we were lucky and found this 90′ XLH1200 Custom…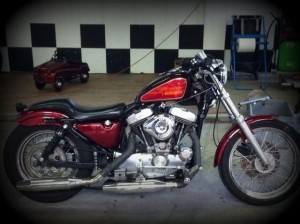 Unfortunately the bike was located in "Tessin". This means to transport it about a distance of 200km, so it was not possible to have a look at it before buying. But, luckily, it was a "killer" buy. :-)