Behind the scenes of project Hydrogen
It was last Friday when a new relationship just started.
To us it seems as it was love at first sight.
It is not a Stylerides motorcycle anymore. It is Joel's now.
But it will be running around Zurich's streets and we won't loose tracks.
Stylerides Zurich would like to congratulate Joel and wish safe riding!
You won't be disappointed.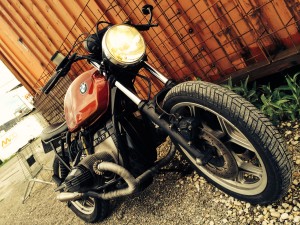 Stylerides Zurich
Patrick & Rene
Here you can find all about what has been done to the original BMW R 80 RT.
NOTE: IT IS NOW FULLY MFK AND STREET LEGAL. (MfK by April 2014)
Get all the details: Flyer_Hydrogen_2
But do not hesitate to call and ask for even more information.
Or just drop by (please call first) to take a ride, go to the bank, get some cash, buy the bike and have fun for the rest of your life :-)
!!! BMW R 80 RT, Project "Hydrogen", for sale!!!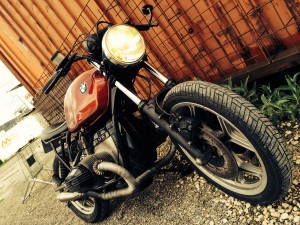 After receiving a great deal of kudos for our first motorcycle project we decided to go fully street legal.
Different – that's what it still is.
The bike ist completely street legal now and can be all yours!!
Come and get a test ride anytime!!
Find out what's been done: http://www.stylerides.ch/?p=1075
Check out the bike (at Motorradhandel.ch), then check your wallet, then dial our number :-)
Goto:
http://www.motorradhandel.ch/fahrzeuge/detail-uebersicht.cfm?id=700779&origin=1&currentRow=3&CFID=3805093&CFTOKEN=732fd299e503ffa6-CE79A69C-D6A6-FDA2-EE37D5BFFCB97CAD
You all have a great and save motorcycle season!
Stylerides Zurich
Our first motorcycle project, called Hydrogen, could be set on the road in mid 2013.
It was our idea to create a rather minimalistic bike…and it worked out really well. Not much left of all the original stuff.So, three came out an all new athletic silhouette!!
See and read all about it in the "Projects"-section.
But, since our guys from inspection do not really give a lot about emotions, diversity and individuality, we are left with no other option than to shift back a little and to turn the bike from radical to reasonable.
It is now our goal to pass inspection – many e-mails have been written, many calls done. But now we are (pretty!!) shure to match all the requirements.
So, it is our next goal to get that thing street-legal within the next few weeks!! And then we' will put it on the market with also an all new price tag!!! So be prepared and share it with your friends.
Check it out!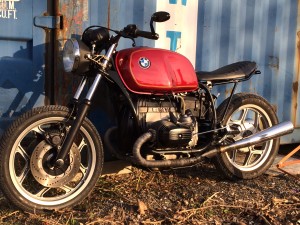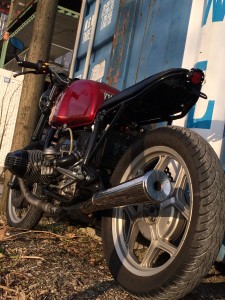 Stylerides.
First things first! In order to really get into it you will always have to get her naked. It's the same with motorcycles. So, what we had to do was getting rid of all the plastic stuff.
Well – lets do this!!
The following pictures might bring you an impression of how project Hydrogen looked, just before we started to strip most of the parts off. The original bike itself is a classy one – as you can see. Many eyes were already on it. Sometimes, nice things should not be changed – in this case, on the other hand, some "maintenance" did good.
But for now – enjoy this