Past or upcoming events
NACH VIER ERFOLGREICHEN UND TROCKENEN RIDE OUTS, MÜSSEN WIR #5 WEGEN SCHLECHTEM WETTER WOHL ODER ÜBEL ABSAGEN! FINITO FÜR 2018.
HAT AUCH DIESES JAHR WIEDER MÄCHTIG SPASS GEMACHT MIT EUCH!!!
BIS BALD AUF EIN NEUES…
RIDE ON,
THE T.B.Z. CREW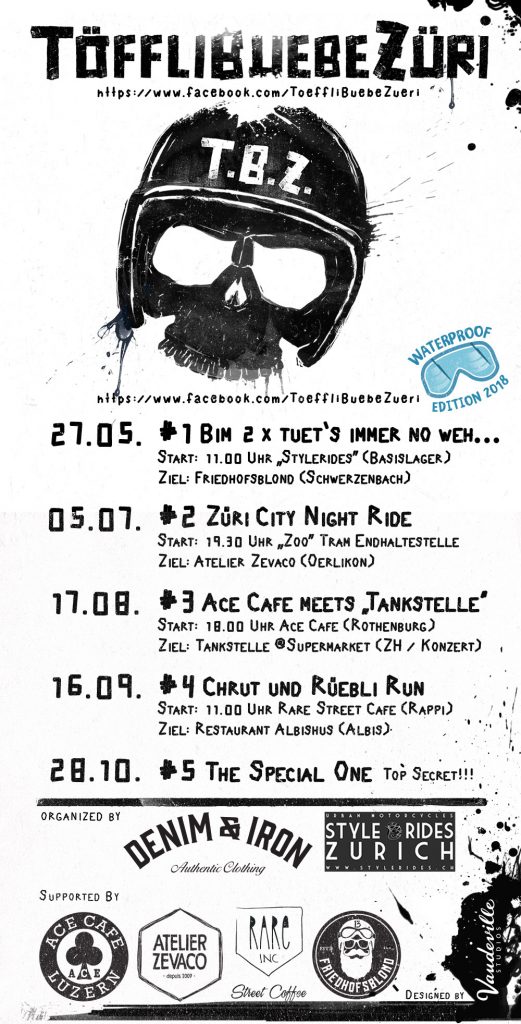 -- Sonntag 26.06.2016
---- 11:00
------ Rare Street Coffee, Rapperswil
Hey guys. The weather will be fine 2day. So there is (almost) no excuse to not show up.
This will be our route
See you soon.
Patrick  & Rene
www.facebook.com/toefflibuebezueri
Danke an alle Fotografen die zu dieser eindrücklichen Bildersammlung beigetragen haben.