Archive for the tag Ride out
Hey guys. The weather will be fine 2day. So there is (almost) no excuse to not show up.
This will be our route
See you soon.
Patrick  & Rene
www.facebook.com/toefflibuebezueri
Danke an alle Fotografen die zu dieser eindrücklichen Bildersammlung beigetragen haben.
Gentlemen, it's really happening!
T.B.Z. – a cooperation project, founded by Dani from Denim & Iron (Get your riders gear there!!)
and Stylerides Zurich (Get your steel horse there!!). Thanks to Zorniges Zweirad for joining our idea!!
There's only one goal: Team-up with other Nitroleptics for a ride and share the passion to ride in style.
So, if you want to stay in the loop and be on top of it all: Find us on Facebook and be our friend.
This is what we have for you all so far: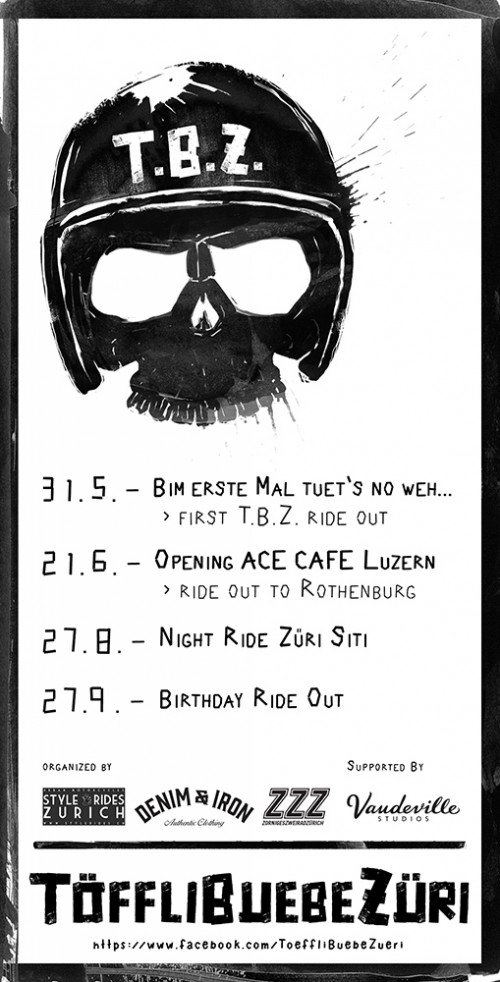 PuTTY
Hey Riders,
das ist doch eine gute Sache! Sponsert mich für diesen guten Zweck! Mein Ziel sind $1000, wer macht mit, bitte :-)
Der Event 2014
Start Time & Place
10am Erne's Euromotos – Sihlquai 67 – Zürich
Departure Time
11am
Regroup Points
Regroup 1: Sechsiläutenplatz
Regroup 2: Meilen Fähre
Finish Location Name & Address

Finish Line: Güterschuppen Wollishofen
ride in style or don't ride at all
Rene
Road to Bremgarten – the raod trip
Check it out…and get the horror!
Rene & Patrick